The first you want to do is to get your Endurance up. Once you get this going, getting your Speed and Strength to increase becomes muc easier, and in order to get your Endurance up, you must Jog.
So today, I spent my whole workout session jogging. But first, I had to buy some lemonades and trout. The lemonades I'll save for later, but the trouts I devoured on the spot. Getting your hunger meter full is a must.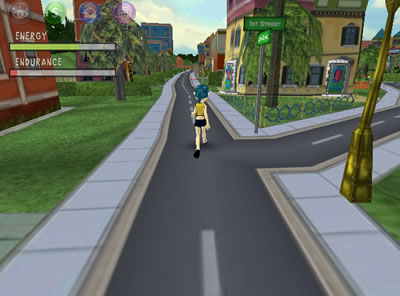 I immediately set off for the longest street in Sociotown, Long Blvd, and began jogging. The reason for picking Long Blvd is because taking long strides affect your Endurance meter more than taking a lot of short ones. 
After roughly half an hour of jogging, two trouts, and over eleven lemonades, I've already seen some progress on my meter.

As you can see, it takes quite a bit of time to fill your endurance meter.