The River Creek region is approximately two weeks away! When the River Creek region finally opens it will first be exclusive to Permanent Residents. They will have the River Creek exclusive to themselves for about 1-2 months.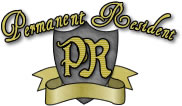 The reason for this is that the Permanent Residents will be able to help test the new features before it goes out to the general public. Plus, one of the benefits of being a PR is getting access to the new regions before anyone else.
Again, we expect the River Creek region to open up in two weeks. I'll be announcing the exact date shortly.
- Chris Evans