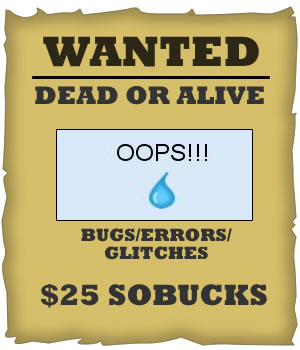 This is the first ever "Glitch Week".  During the week, we will be paying SoBucks for good bug reports that we can use to fix the glitches! With the recent Shockwave Player update, there have been more glitches than usual. Also there are a lot of old bugs that need to be taken care of.  So for this week we want to encourage everyone to  submit as many good bug reports as possible.
Specifically this is how it works:  You find a glitch with the game and then write clear "steps" to reproduce the glitch. If we are able to reproduce the glitch and fix it, we will pay you 25  SoBucks! Use the following format when writing a bug report:
Step 1 -  Do this
Step 2  - Now do this
Step 3 -  Do that
Step 4 -  You get the glitch error
So for example, this is what an actual report would look like:
Step 1 -  Take out your Piano
Step 2  - Play a few notes
Step 3 -  Open your Mail
Step 4 -  You get an Oops Error
You can submit your bug report on the forum in this topic,  so others can see. This might help avoid people working on the same glitch.  Or if you feel the glitch is somewhat sensitive and shouldn't be viewed by the public, you can use our bug report form on the support page.
We look forward to getting your bug reports! Just remember, we pay SoBucks for glitches we actually fix using your steps. Simply submitting 50 bug reports doesn't automatically mean you'll receive 1250 SoBucks.  We need to fix it first, then we'll give you the SoBucks.  Also while we are only accepting eligble bugs during "Glitch Week", if we end up fixing a bug using your steps 5 weeks from now, we will still givie you the SoBucks. So don't freakout if you haven't recieved any SoBucks at the end of this week.

Thanks  everyone!
- Chris Evans