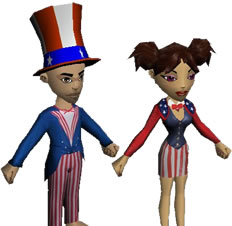 To Socians from United States, happy 4th of July (a.k.a Independence Day)! For this particular celebration, we've released and re-released patriotic red, white, and blue items into the stores for you guys!
This includes the new Uncle Sam outfit for the guys and the starry dress for the gals.
These seasonal items will only be available for a very short period of time, and won't be available again until next year's 4th of July! Be sure to get your hands on them before it's too late!
ALSO!- the Disco Ball room in the Event Dome will open at 3pm SocioTown time for you guys to party at. Drop by!