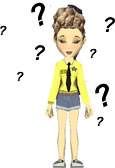 To relieve the 'hump day' syndrome, we're inviting you to join us for a "Where's Deasy?" event in SocioTown next Wednesday July 7th.
Staff member Deasy will be hiding somewhere in SocioTown and the first person to find her will recieve a "BLANK HERE".
There will be a clue posted on the blog prior to the event.
"Where's Deasy?" starts at 2 pm SocioTown time!