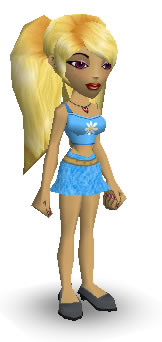 Article Submitted by Socian Nadia
A few days ago, I had this grand idea that, considering the SocioTown Journal and the blog focused mostly on in-game activities and lifestyle, perhaps I can volunteer my time to showing the SocioTown community what is going on with some of the Socians personal life.
It was two p.m yesterday when I sent out my first interview invitation to Socian LucyB. I awaited nervously in my apartment lobby, which I have deemed to be my interview office, for her to arrive. What questions to ask her? Would it be interesting? Thoughts raced through my mind a hundred miles an hour. It wasn't until LucyB entered through the door, wearing her blue skirt and blue daisy crop top that those thoughts came to a halt and I came into the realization that I was doing this for fun!
Having been a Socian since January 2010, it's no wonder that LucyB is already a level 13. LucyB sat across from me, flashing those pearly whites in the meantime, and I couldn't wait to start my first interview.
Nadia = So, LucyB, where do you live in real life?
LucyB = I've been living in 

Ohio

for 5 years. Before that, I lived in 

San Diego, California

.
N =  Wow, that is a long way! Why did you move?
L =  I know right! I moved because of my family. They moved, so I followed.
N = Do you like it there?
L = No, I hate it. Too cold.  I don't like snow.
N =  What do you do in Ohio?
L = I work as a paralegal
L = Sometimes. Sometimes it's boring. We do patent and trademarks work.
N =  Do you ever get to see the actual stuff?
L = Only when the client sends it. One time the client sent dirt. They were trademaking special dirt. They used it to seal the cement.
L =  I couldn't see it. The client only have pictures.
N = Do you make a lot of money as a paralegal?
By this time, however, our interview had to be cut short as she noticed the time, panicked, and informed me that she had an appointment she couldn't miss. LucyB hurried out the door, leaving me with a satisfied interview.