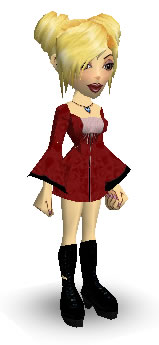 My e-mail got a lot of mail from facebook, appearently several people had tagged me to their pictures. Made me wonder what kind of pictures. so, when I log in to my facebook, I saw Lisacutie was online. I've got to chat with her.
Nadia = How did you Sociotown?
Lisacutie = I found it from my friend from school. She told me about  SocioTown. I don't know what kind game SocioTown was, so when I was bored, I went to SocioTown to found out. SocioTown has been amazing for me because I have a lot of friends here. I love work together with them, catching bugs, fishing and much more. This game will be the best game for me..
N = Where are you from?
L = I was born in Korea but grew up in USA until I was 11 then my family moved to Korea. My mother is American, and my father is Korean. Though I'm a mix blood, my face purely like Korean.
N = Do you like living in Korea than in USA?
L = Yes, I do. I love Asian's culture especially Korean's food and language.
N = What is it like to live in Korea?
L = All things are amazing in Korea, especially Seoul - the famous city in Korea. A lot of people in Seoul. They like to shopping, clubbing, and so much more. That's city life.
N = Do you live far from Seoul?
L = No, not too far.
N = How old are you?
L = I'm 20
N = Are you in school or work?
L = I'm still in school.  I want to be a dancer. I love entertainment. I also plays music instrument, piano.
N = Dancing? What kind of dancing?
L = Pop Dancing. I'm in a dancing group of 5 members. Mixed gender and mixed age too. Our instructor made the decision about the group. But overall we are friendly team, and it is the most important thing. At the moment, we are in training.
N = Do you like your dance instructor?
L = Yes. So much!
N = Have you done public performance?
L = We are called when there are some competitions or functions.
N = How many years left for you to finished your school?
L = Until I'm 23 maybe. And I will be out as a dancer hopefully.
N = Do you have to practice ballet dance?
L = I'm not good in ballet dance. I tried but my steps were not good. I'm more love with pop dance, it makes me enjoy the music well.
N = Do you learn other type of dance other than pop dance?
L = No more..but my legs can open widely lol.
N = What kind of performance you are looking for?
L = Dance and singing..short word, the whole package.
N = Do you have a boyfriend?
L = WOW! That is amazing question lol..  Uhmm, Yes, I have in real life now.
N = Is he a dancer too?
L = lol..yes..
N = Have you ever think of coming to USA again?
L = We have a house there in USA, but I don't know.. maybe. However, I can't leave Korea for a long time. Korea is my heart

Before we departed, Lisacutie gave her shoutout to SocioTown : "I hope SocioTown will be the famous game than other social games.  Thank You!"
Rock on, Lisacutie!