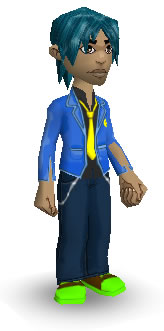 He claims that he is a basketball fanatic. He even named himself from 2 major basketball players, Kobe Bryant and Juwan Howard. But what other things don't we know about him?
Nadia : Hi KobeJuwan, where are you from?
Kobejuwan : Houston, Texas, USA.
N : Tell me about you and your school.
K : Well, I am in 10th grade and my favorite subject is English (reading).
N : Are you in a sport team?
K : I play football, basketball, and run track. I'm also in Pre-AP English.
N : What position are you in basketball and football?
K : In basketball, I'm in center. And in football, I'm in the defensive end. And in field and I shot put.
N : What other things do you do?
K : I love to play saxophone. I've been playing for 3 years now. I'm in symphonic band, and I'll be in honors next year.
N : What is your future goal?
K : My future goal is to study medicine in college, to be a doctor.
N : What kind of doctor?
K : Any type, as long as I help people.
N : Do you know how long it takes to be a doctor?
K : Not really…..but if I work hard, I can accomplish my goal.
N : What grade do you have in biology?
K : I got 90 for the semester grade and 80 on my final.
N : How often do you study at home?
K : I study everyday during school days after football pratice about 2 hours then play sociotown.
N : What are you parents do for a living?
K : Both my parents are nurses. They are tough on me a lot but not as often because they are very busy with work.
N : What kind of stuff are they tough on you?
K : How to take care of an patient - you can't leave their sight at all and you have to watch them continually, what type of medicines they use, and much more.
N : Do you have a girlfriend?
K : Not anymore. I used to date Stephanie, a girl from school.
N : How did you find out about SocioTown?
K : I searched up some games and went to onrpg.com.
N : What do you like about SocioTown?
K : When I saw SocioTown, I though it was a very interesting game. After seeing everything, boxing probably my favorite and bug catching.
N : In SocioTown you told us that you like the color pink. Why do you like it so much?
K : Well pink reminds me of life, joy, happiness, and girls. LOL.
N : Do you wears pink in real life?
K : Not really…. sometimes. I wore it once for Breast Cancer Awareness Day. My real favorite color is green.
N : Why green?
K : Green is everything to me. It is one my favorite football teams (green). The Greenbay Packers. And yes, green  also represents my character when I'm good. If my character is bad, it's red.