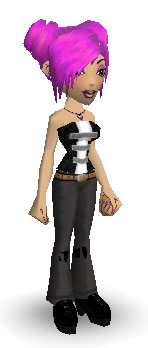 Nadia = How did you find SocioTown?
Ohgee = I found Sociotown through a games forum. They had posted a list of games to check out, so I did. Also, a group of my friends also joined Sociotown at that time.
N = What group was that? Are you talking about the Disney game?
O = The Dis boards is a forum based on Disney. I used to play a game called VMK that made you feel as if you were in Disneyland.
N = What happened to VMK game now?
O = Sadly, it closed 3 years ago. That is when a group of us came to Sociotown and found new friends.
N = Is "Ohgee" your real name?
O = No, the name "Ohgee" comes from an old cartoon character. She was the little girl in the cartoon Magilla Gorilla who used to say "ohgee" in a cute voice. I just liked the way she used to say it.
N = Is that true that you like to go to the shooting range?
O = Yes, I'm a very good markswoman but I haven't gone in a little while. I also rode motorcycles.

N = Interesting…I heard you are a teacher?
O = Yes, I teach computer skills in an elementary school in NYC.
N = What kind of computer skill? The software?
O = In the lower grades we teach basic computer skills such as typing, word processing, creating graphics and researching on the Internet. We use various programs such as Powerpoint to create slideshows/books, Kidspiration to create story maps, and other programs for various projects.
In the upper grades I also have my students create podcasts, vodcasts,  contribute to a wiki and a blog and even create their own web pages. I am really proud of how far they have come over the years.
N = Wow…do you make the students to type with 10 fingers too?
O = I try to have them type with all 10 fingers. We do practice proper finger placement but the younger students need lots of practice. They don't mind practicing when they see that they are able to type faster the more they do it.
N = With bad economy right now, does your state have school budget cut as well as California (where I live)?
O = Yes, they are cutting school budgets all over the country. It is very sad that they will be taking away those good programs that really help the students. It seems like they always cut art and music programs in the schools first to save money. I hope that they will be able to increase our budgets in the coming school years.
N = Do they lay off a lot of teachers as well as in California?
O = They said they would have to lay off a large group of teachers because of budget cuts. I know that one of the teachers in my school did get notice that they may not have a job in September. It's a shame because this will create larger class sizes. Smaller classes are always best.
N = How would the government know which teacher need to be laid off? Are they using pull-a-straw system?
O = Right now in NYC the lay offs are based on seniority. The person who has taught the shortest amount of time is the first to be laid off.
N = So what would became of those who got laid off? Find another job title?
O = Some are able to find a job in another school, some people substitute in schools until a position opens up and then some may have to find job in another field.
N = How long have you been a teacher?
O = I've been teaching for a while.
N = Have you always been teaching computer?
O = I was also a classroom teacher. I have taught first, second, third and fifth grades.
N = Have you ever taught middle school or high school?
O = No I haven't. My teaching license allows me to teach Pre-Kindergarten through 6th grade.
N - They have different license for that??? I've never know that. Have you ever taught kindergarten?
O = Each state has their own set of requirements. You usually need to have a college BA degree in teaching and a specialize in a particular subject (math, science, etc.). You also have to take state test.
N = When you were young, were your goal to be a teacher?
O = When I first went to college, I had planned on becoming a CPA (Certified Public Accountant). At the end of my sophomore year, I realized that I really wanted to become a teacher. I changed my major going into my junior year.
N = Are you planning to teach high school kids anytime in the future?
O = No, I don't think so. I enjoy teaching the students on the elementary level.
N = What the kind of things you enjoys the most about them?
O = When you see the light bulb go on in their eyes when they learn something new, THAT is the reason I became a teacher. The students' natural curiosity and willingness to try new things makes it all worthwhile.
O = I hope there are many more people out there who want to become teachers and help teach for our future.