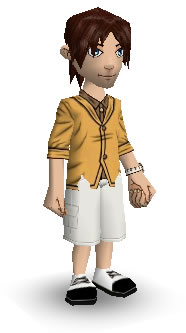 Nadia = Hey Mamoor, Where do you live?
Mammor = I live in Birmingham, England.
N = Do you go to school or work?
M = At the moment, I'm in my 2nd year in college. I will, though, transfer to a univesity next year.
N = What are you studying?
M = Lots of stuff e.g Triple Science, Chemistry, Maths, Biology, Physics, ICT and Islamic Studies.
N = What are you planning to do?
M = Become a footballer, pilot or astronautcommercial pilot.
N = What kind of pilot?
M = Commercial ones. I hate fighting and wars.
N = So we won't be counting on you for joining the military then?

M = Yep! But count on me to discover planets

N = Why are you studying Islamic Study?
M = Because I'm a Muslim.
N = Sunni or Shia?
M = Sunni.
N = Please tell us the different between those two.
M = Umm… Sunni people have a different prayer then Shia. And Shia have an event
called Matam in which they hit themselves with chains - which Sunni don't do.
N = Where were you born?
M = Pakistan.
N = How old were you when you moved to England?
M = When I was about 6 or 7 years old. I can't remember. I think it was 7.
N = How old are you now?
M = 20
N = And you've been living in England ever since?
M = I've been going to Pakistan for holidays.
N = Why did you move?
M = I was really young and I'd never really asked but I presumed it was for business reasons. It's my dad who does the ambassador sort of thing. i don't really know.
N = Was he 'the' ambassador, or work in embassy?
M = I dunno, but I think it's one of them. I think it was ambassador.
N = Do you like living in England?
M = Yep!
N = Do you prefer living in England or Pakistan?
M = Both, really. I like the peaceful of mountainious parts of Pakistan, and I like the coldness of England.
N = When you first moved to England, did you experience a culture shock?
M = Not really. Just the cold weather and the change of people, that's all.
N = Where and when did you learn English?
M = I learnt it in England fully when I was about 7 and a half or something. Well… not fully but understandable.
N = After you finish the school, what would you do?
M = I'm thinking of living in Qatar, Dubai, Switzerland, Pakistan, France.
N = So many places. Can you tell me why these places?
M = Well it's simple really…. they are beautiful. I would prefer Canada too.
N = Have you been to these places?
M = Some of them but they sound good.
N = Which activities do you like best?
M = I like swimming and cricket and football and laptop and drinking chocolate milkshake and doing archery and playing tennis and playing on my PS3.
N = Cricket??? Isn't that old people sport?
N = I don't think that. I love cricket, probably because I'm good at bowling.
M = Yeah you love cricket. admit it

If I'm not mistaken cricket is royalty's game. Correct me if I'm wrong.
M = It is and I do like cricket.
N = What kind of PS3 games do you play?
M = Wars and football and car adventure games. Games like Grand Theft Auto.
N = How did you find SocioTown?
M = My brother told me about it. It was in 2007 when my brother joined and I told him it was stupid because I didn't know. But once when I was bored, I went online and found that it was really good, so I play and I play in happily ever after