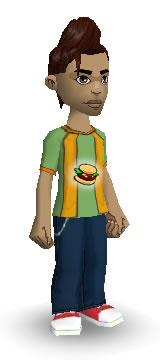 Nadia = Why your username is "Pindown"?
Pindown = Well…. my friend told me about this game, so I just put this as it. I thought it was kind of funny.
N = Where do you live?
P = Florida, USA.
N = Do you like to live there?
P = Yes. I lived in Boston, Massachusetts before. But I like to live in Florida better because it's very hot and I also have lots of friends here.
N = How old were you when you moved to Florida?
P = I was 9 years old.
N = What grade are you now?
P = 10th grade.
N = Which subject is your favorite?
P = Spanish.
N = How many years have you studied "Spanish"?
P = About 1 year. But I would grade my Spanish at 80%.
N = Do you speak Spanish outside school?
P = Not really, because I don't feel comfortable speaking it outside of school and I'm not all that good at it.
N = How many more years do you need to perfect your Spanish?
P = I don't think I need years of it. I'm guessing I just need 3 months.
N = Do you speak other languages than Spanish and English?
P = Yes. I can speak 6 different languages. Haitian, Spanish, Arabic, English, Chinese, and Dutch.
N = Which one of those languages that you are fluent in?
P = English, lol.
N = Do you have a Haitians background?
P = Yes. Both my parents are Haitians.
N = Have you been there?
P = Yes. I went there when I was about 10 years old. It was summer time and it was very hot down there. Somewhat, I don't like seeing people suffer; makes you feel that bad. People can't afford real toilet and most have disease.
N = Disease from what?
P = They got it from other people, randomly.
N = If they can't afford toilet, then what did they use?
P = There was this built-in-hole and they used that. Sad to hear poverty in some part of the world, hopefully some people could join together to do something good and rewarding.
And maybe Pindown can make some difference in his future for the Haitians people.