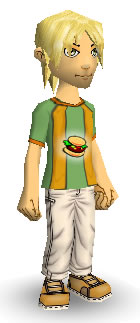 Nadia = What does "Fufu55″ mean?
Fufu55 = Well, I created this name when I was returning to my house from football practice when I heard this cat that was making a cute voice that sounded like fufu and 55 is just my lucky number.
N = How did you find SocioTown?
F = I searched on Google for browser based games and SocioTown was first on the list so I thought I would give it a try.
N = What activities in SocioTown do you like best?
F = Well, I like working in Burger Despot and shopping

N = Where are you from?
F = I am from Palestine. But right now I live in Abu Dhabi, UAE (United Arab Emirate) (***note: Abu Dhabi is the capital city of UAE). I go there during vacations.
N = How old are you?
F = Well, I'm 13.
N = How old were you when you moved to UAE?
F = I guess I moved when I was 3 years old, but I'm not sure. It was a very long time ago.
N = Which country do you like best?
F = In my opinion it's Egypt that I enjoyed best because they have great weather and the country is full of ancient artifacts such as the pyramids.
N = Are you into Egypt's ancient history?
F = I used to learn about Ancient Egypt as the subject of English Social Studies when I was in primary school and I really excelled in it because I really liked the subject which made me eager to go there personally and experience it.
N = Who is your favorite pharaoh?
F = Tutankhamun because he was the most clever leader and a fair ruler. He did not let his kindness affect his courage out on the battlefield.
N = But wasn't he became a pharaoh when he was a kid (*** note: Tutankhamun ascended to the throne at the age of 10), and he was pretty much a puppet king? And he died at young age. (*** note: Tutankhamun's death estimated at the age of18)
F = Yes. But he was certainly an admired leader back in his time.
N = I want to make sure, do you admire him because he was found with the most treasure or because of his charisma alone?
F = I liked him because he had a perfect personality. He was kind and clever, but in the time of need, he did not let his kindness affect his ruthlessness on the enemy.
N = Can you read Egypt's ancient language?
F = Of course not, I'm not a hieroglyphic reader, but I try as hard as possible.
N = Can I assumed you will move to Egypt when you are of legal age?
F = No…not exactly. My real passion isn't really in English social studies or hieroglyphics, but in biology.
N = Biology??? Are you planning to be in medical?
F = Yes, biology is really a great subject that is needed in the world.  I want to become a known brain surgeon.
N =  A very heavy stuff! What classes have you taken to get you to this goal?
F = Yes I know, that's why I'm really going to study and study and study in college.
N = what grade are you in?
F = I'm going to 9th grade.
N = what did you like about being in 8th grade?
F = Well it was the beginning of the difficulty that I'm going to face in later grade, which made me realize that I have to study harder next year.
N = How often do you study?
F = Well, I study 3-4 hours on normal school days and approximately 4-6 hours on exam days and no less.
N = Do you play any sport? School sport team?
F = Yes, I do as a matter of fact. I play football, basketball, tennis, swimming, and American football sometimes.
N = There is an American football in UAE? Is as a school sport?
F = Yes. we do plays American football but as a hobby.  I like to play it at the sport's clubs.