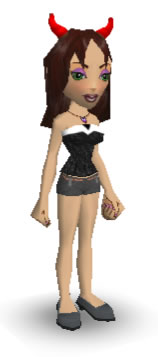 Nadia = Where do you live?
PrincessVictoria = Canada, Ontario.
N = Are you in high school or middle school?
P = Middle school.
N = What can you tell me about your school?
P = It's cool, you get computer lab and sometimes get to do free stuff on the computer. The school also has a huge field. A very nice school.
N = What kind of "free stuff" are you talking about?
P = At the computer lab, sometimes, when we are done with our school work assignment, the teacher let us go online playing games and I usually plays Multiplayer games.
N = Do you play Sociotown at school too?
P = Not really, I play online games that I could play by myself. But I had play SocioTown at school.
N = What is your favorite subject?
P = Art. My class got an assignment to go over all the school subject. We had to go to all of the classrooms and rate them. And I got "Art" as my highest rate.
N = What kind of art?
P = I like Sketching, Cutting, and Pasting.
N = What kind of sketching have you done?
P = A picture drawing of me. I'm very good at drawing even though I haven't taking that class that long. People say I'm the best picture drawer in the class.
N = Do you have any of your drawing posted online? on Facebook maybe?
P = Nope. I don't really want to post things of mine what I did.
N = What are your hobbies?
P = Watching TV, play on the computer, drawing, and riding my bike.
N = What kind of tv shows do you watch?
P = I love SpongeBob SquarePants and Family Guy. They are very great TV shows.
N = How did you know SocioTown?
P = Well, when I downloaded a game called "Pizza Frenzy", a website of Arcadetown.com poped-out and I saw SocioTown on its list under multiplayer games. So I started to play it and it has been amazing. The thing I like about SocioTown is the events at the event dome.
N = Which event do you like most?
P = The Treasure Hunt because you can earn money just for earning treasures.
N = Do you have siblings?
P = Yes. I have a brother (Razorbladz) and a sister (Flaura101). My sister stole her username from some girl. lol. You might haven't seen her, cause she doesn't play.
N = What stuff do you usually do with your siblings together?
P = I play with my sister and at night, we pretends to do slumber party. With my brother… I don't really do much.
N = How come?
P = Well, he's annoying. That's why. He's fights all the time. He blames things that I didn't do on me. Of course, I told the truth that he did it.
N = Do you have any house job from your parents?
P = Sometimes to dust and clean after 1 or 2 days.
N = Do you like your city? Ontario?
P = Yes! We have a very nice CN tower and CNE Canadas wonderland. (note: CNE = Canadian National Exhibition)
N = What kind of exhibit?
P = It's very fun. It's a very big park with lots of games and you can earn toys. You can go on rides too. My family goes there every year. Very fun to watch.
N = Are you talking about a carnival?
P = Yes.  Every school gets a free pass at the end of the year to celebrate it.
N = Do you speak other languages than English?
P = A little bit of Italian, and a little bit of French. My parents have Italian's background.
Benvenuti a SocioTown, Princess Victoria!