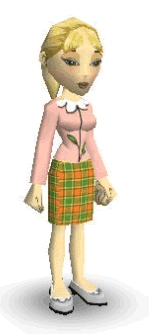 Nadia = How did you found SocioTown?
Elieit = By Google. I wanted to search some sites and SocioTown's name popped up and my brother, KobeJuwan, told me about it.
N = So your brother already played SocioTown when you went on search mode?
E = Yes, I wasn't really sure about playing the game but he told me of interesting facts about SocioTown.
N = What facts did he tell you?
E = There's bug catching, you can ride a scooter, you can go on a boat ride, and many more.
N = How many brothers and sisters do you have?
E = I have 1 brother, KobeJuwan, and 1 sister. My sister used to play SocioTown, but not anymore. You see… she stole someone's name and got-in a bit of trouble.So she decided to quit completely.
N = What kind of things do you and your siblings usually do together?
E = We love to watch horror movies like "Goosebumps: A Night In Terror Tower" during the days. (My sister almost freaked out when the horror scene came) And go to our aunt's house to see our cousins.
N = What is "Elieit" means?
E = Well… I like the name "elie" off a socian name, so I decided to add the "it" part.
N = How old are you?
E = 14.
N = What are your favorite subject at school?
E = I like my art class. Sculpture. I like to go deep in making sculptures, but we usually use clay at my school.
N = What kind of clay sculpture have you done?
E = Hehe… I tried to do make a mini sculpture on the double oval but it turned out to be mushy and I had had clay on my fingers for weeks. I still have a lot to learn.
N = What kind of sculpture do you like?
E = Roman Sculpture art is my favorite. I like this sculpture called "The Dying Gaul" (note: originally named "Dying Gladiator" by Attalus I of Pergamon) because it shows its beauty. It is a very rare Roman art that was made in the late 3rd century and considered the oldest sculpture in the Roman museums.
N = The statue looks like it's in agony though. What makes it a beauty to you?
E = It shows sadness but inside the statue's heart is love jealousy for what someone has. But, I, on the other hand, think that the statue is not happy, but its beauty was shown. But its agony was shown more than its beauty.
N = What are your hobbies?
E = I like to draw and ride my bike around the parking lot.
N = What kind of drawings have you done?
E = When I was in 2nd grade I drew a Venus Flytrap it ate a fly in the pond. I won 3rd place.
N = What are your favorite foods?
E = I like to eat hot dogs and I also love fried rice and fried chicken.
N = What are your most favorite movie of all time?
E = The most favorite is "Michael Jackson: This Is It". When I watched his songs, it touches my heart.