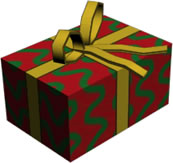 Here's a surprise for Suzan1, Midgit and OhGee! You can thank your Secret Santas for their nice wishes.

To: Suzan1
From: Suzan1's Secret Santa
I want Su to get the gift because she's one of the bestest person I've ever met in SocioTown. Plus, I love to chat with her, and chatting is one of my favourite things to do in SocioTown. I remember the other day I spent so much time on SocioTown, just because we were having an argument. Don't worry, it's nothing serious. Both of us had so much fun and we even pulled my Socio bf into it.

With love,
Your Secret Santa
***
To: Midgit
From: Midgit's Secret Santa
I want to give a gift to my good friend Midgit, because he is very kind and generous. He makes me laugh when I am down, although I haven't really talked to him much because he is busy with school and other things. I want to show my act of kindness and thank him for letting me smile.
***
To: OhGee
From: OhGee's Secret Santa
I nominate Ohgee… Ohgee has been in game, and a guide since the start. I too was once a guide, and I can attest to the fact that we (game players and staff alike) are very lucky to have her with us. She is fair, funny, smart and a definite asset to the game. If anyone deserves a thank you in the way of a gift, let alone a call out… it is Ohgee. Thank you for considering her!
***