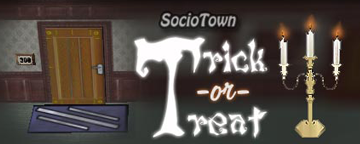 We have picked 4 out of 10 winners for this year's Trick or Treat!
*Allizara
*Shanana
*Berta12
*Sumayyah
6 more will be picked later. This post will be updated when more winners are added.
It's not too late to join this contest! Simply send your SocioTown apartment address (for those who do not have an apartment, you can pick the park as your location) to my email address at dawn @ sociotown (dot) com (please remove the spaces and put a dot).
Winners will be visited on Halloween night, between 6:00 - 7:00 PM Socio time. You will be asked to choose trick or treat. Your surprise prize will depend on your answer.

Happy Halloween!