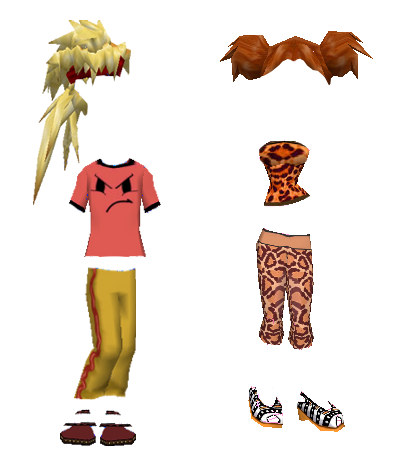 With a ketchup kick and a magical stomp, this Mishmash Martial Artist outfit will stun your enemies! To get this look, grab the Blonde Martial Arts Hair, Angry Smiley Tee, Ketchup and Mustard Pants, and the Wizard Shoes. Hi-yaahh!
If you're in the mood for feline spots, do the catwalk in town with the Leopard Look! To get it purr-fectly, match the Orange Leopard Tube Top with the Pink Leopard Print Capri. You can add the Easter Dress Shoes, then the Red Twin Buns for that kitty ears-like look!
Of course, this is all optional. Feel free to mix and match with whatever you think is best for your look! These outfits are also great for Halloween if you dig the slightly casual look for a costume. Most of these items are available in the stores this weekend!
What do you think? Is your costume/outfit ready for Halloween? Let us know in the comment section below!